#SageOne star: Vanessa Johnson (Urban Metalworks)
4 years ago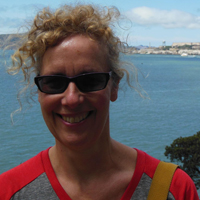 Instead of us just telling you how good we think we are, we asked Vanessa Johnson to tell us why she likes using our cloud-based Sage One Accounts software.
1. Hi Vanessa, could you please give me a brief summary of who you are, what you do and the name of your business?
I am Vanessa Johnson, the owner of Urban Metalworks, an online furniture website that I launched with my husband Lee in August 2014 after completing a one year furniture making course at Sheffield University.
We design and manufacture furniture by hand all by ourselves. Lee has been in industrial fabrication for a number of years and can make some amazing things with metal. For myself, after working for the same large company for over 20 years in a commercial role I left to start my own consultancy business before starting Urban Metalworks.
So far we have made a variety of products from small side tables to 8-foot dining room tables, working mainly with wood and steel but also a lot with glass. Our products are both industrial and modern in their design and this hopefully inspires our customers. In this way a lot of the work we do is bespoke, with many customers looking for that one-off piece to fit into their home and be a real talking point. Visit www.urbanmetalworks.co.uk to see the full range.
2. How many people are in your business? Is it just you or do you have business partners / employees?
At present there is just myself and my husband running the business. We of course rely on some great local suppliers for wood, steel and glass but if things take off we will be able to help train an apprentice in both working with steel and wood.
3. How long have you been using Sage One Accounts? How were you managing your finances beforehand? Why did you change?
I started using Sage One Accounts in April 2014. Initially this was set up to manage my consultancy work which I do a couple days a week as well. I have never had to use any other payroll software before until I became self-employed.
4. What do you like best about Sage One Accounts?
What I like about Sage One is it's so easy to use. It takes all the hassle and concerns you have away. I can quickly update the system on an evening or weekend and be comfortable knowing I will have all my accounts in good order for filing my end of year accounts.
I also like the fact that I can easily upgrade my version of Sage One if I require more features, whether that be with Sage One Accounts Extra when I need a more sophisticated sales ledger or adding Sage One Payroll when I take an employee on.
Most of all I feel Sage One has given me support when I needed it – from the first days of setting up my business and needing a friendly person at the end of the phone with advice, to invitations to various conferences and advice sessions that help you build your confidence and grow your business.
5. What advice would you give to someone starting out in business / following in your footsteps?
Make things easy on yourself! There is so much to learn when you are starting out but you just want to do what you do! Sometimes you get drawn into the parts of running your own business that you are either not familiar with or you simply don't enjoy.
My advice is get advice and support with the right systems that ensure you are organised from day one and your business is on track from the start. Sage One is easy to use, has 24/7 support if you need it and takes very little time at all – giving you plenty of time to enjoy running your business.
I would also suggest taking advantage of any seminars or conferences that are available. I met lots of great like-minded and inspiring people at the MADE Festival that I went to this year and am now networking with many of them – thanks to the Sage One team who sponsored it!
Try Sage One for free!
If you want to get your finances in order and benefit from free 24hr online, telephone and email support, get Sage One Accounts for just £10 a month including a free 30 day trial at http://uk.sageone.com/accounts/