Process payments faster with Sage One and Sage Pay
5 years ago
The integration of Sage One and Sage Pay helps ease online payments for retailers and small business owners by allowing them to pull online payment data directly into their accounting software, instead of manually inputting the information.
This automation will help save time for the user, remove the risk of manual errors, ensure that their books are accurate, compliant and up-to-date and provide them with a more accurate appraisal of their financial situation.
Once connected, Sage One will automatically inform the user if there are any new Sage Pay transactions to import into the system every day, saving users time and easing the process of accounts reconciliation.
Saving you time
"The integrated solution means retailers can concentrate on running their businesses, minimising the time they need to spend on bookkeeping and administration," said Simon Black, CEO at Sage Pay.
"Enabling users to focus on what matters is critical to their growth and success – and to the success of the UK economy. The improved integration between Sage One and Sage Pay is exactly the kind of streamlined, joined-up business process they need."
The integration announcement follows a successful year for Sage, with the number of customers using a Sage core accounting system and a Sage payments solution rising to almost 14,000 in 2013, an increase of 42% from 2012.
Sage also announced a threefold increase in Sage One customers in the UK & Ireland, from 6,100 to 21,000 in the 12 months leading up to September 2013.
Lisa Ewens, Sage One Category Manager said: "The new and improved integration between Sage Pay and Sage One makes perfect sense for our users as it will enable them to spend less time on business administration and more on marketing and selling their products. The recent surge in Sage One customers suggests a growing demand for easy, online services in the start-up and small business community and we now have a truly connected system for them to receive and manage their payments."
The integrated offering is automatically available to all customers who are using both Sage Pay and Sage One and is simply turned on within their account 'Settings' in the latter.
Get connected
If you're already a Sage Pay customer you can see how the new integration works by signing up for a free 30 day trial of Sage One Accounting and then going to:
Settings > Accounts Settings > Sage Pay Settings in the new service.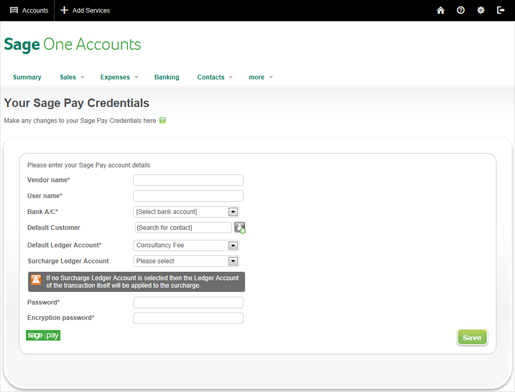 If you're an existing Sage One customer and want to start selling online using Sage Pay, please give the team a call on 0845 111 0797 or request a call back by using this form.
About Sage Pay
Sage Pay is Europe's leading independent payment service provider (PSP) and is one of the most trusted payment brands. Every year Sage Pay processes billions of pounds worth of secure payments for its 50,000 customers and makes the process of accepting payments online, over the phone, or in person simpler, faster, safer and more profitable for businesses. Sage Pay is a subsidiary of FTSE 100 business management software and services company The Sage Group plc.
About Sage One
Sage One is the online accounting and payroll service from Sage, the UK's leading business software provider. Created with start-ups and small business owners in mind, it's designed to be jargon free, quick and easy-to-use. 24hr telephone and email support from Sage's award-winning contact centre is also included in the low-cost monthly subscription price.