Your new Sage One Help Centre
5 years ago
By Joanne Grieves (Technical Writer, Sage).
Have you seen your new look Help Centre? Over the past year we've been listening to all your feedback and working on improving the help available to you online.
The Help Centre contains hundreds of articles which cover everything from getting started, day-to-day processing and correcting mistakes.
Whether you're based in the UK or Ireland, you can now access help specifically for your country.
To access the Help Centre
You can access the Help Centre directly at:
You can also access it from within your Sage One service from the main menu bar:
This takes you to the help index for the service you're currently accessing and this shows common articles.
If an option within your service has additional help, you can go directly to the article relating to that option by clicking on the help icon.
Improved search results
One thing we often received feedback about is the search results. Previously if you searched for an answer, you got results that covered all services for both UK and Ireland.
We've improved this so now, depending on how you access the Help Centre, you get search results relevant to your country and your service.
Don't worry though. If you've got multiple services, you can still switch between them using the tabs at the top of the Help Centre.
You can also still search the whole Help Centre for both countries and all services from the main Help home page at http://help.sageone.com before you select your country. If you search from here, to make it easier to find the article relating to your service and country, we've added tags to the description.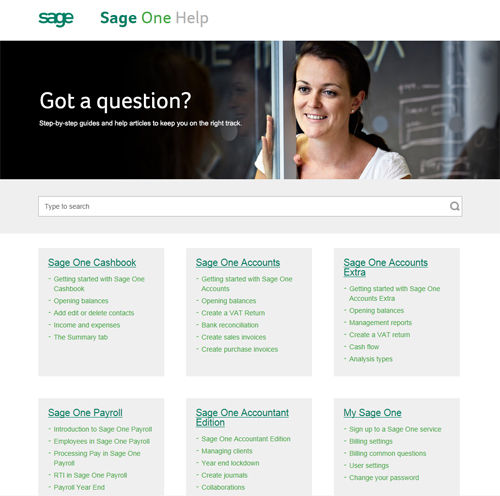 Screenshot of Sage One Help Centre
Feedback?
Your feedback is very important to us and helps us shape the help available to you online. You can now send feedback to us directly from within an article. To do this, simply choose your rating and enter your comments. Don't forget to enter your email address so we can get back to you.
If you have any additional feedback, perhaps you'd like us to create a new article or you just want to let us know what you think about the new Help Centre, please don't hesitate to get in touch. You can email me at joanne.grieves@sage.com and I look forward to hearing from you.
Of course, if you still can't find the answer you need in the online Help Centre, we provide free 24hr telephone and email support to all Sage One users from our award-winning and UK-based Customer Support Team. So give them a call on 0845 111 66 11 or email support@sageone.com