"Jimmy Wales (Wikipedia) is good at failure!"
6 years ago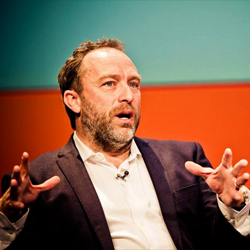 At the recent Accelerate 2013 'Festival for High Growth Businesses', Jimmy Wales (Founder of Wikipedia and Chair of the Wikipedia Foundation) gave a fantastic talk about his successes and failures as an entrepreneur.
He started off by saying "The title of my talk should really be 'Failure, Jimmy Wales is good at it' insisting that we all need to be more comfortable with the idea of failure if we are to ultimately succeed.
Failure and Success
1. Apparently Jimmy 'Jimbo' Wales used to be an options and stock trader in Chicago which meant he did have some seed money to invest into his first idea, an online food ordering business in 1996. It failed.
2. His next idea was a search engine using pay per click advertising (sound familiar?) and a unique way for users to earn credits by sending traffic through it. It failed. (Chinese spammers took over the site in 3 months).
3. His third idea was a site called 'Newpedia' – an online encyclopaedia which used experts to write content for it. He spent $250,000 on the first of 12 articles. It failed.
4. However, this planted the seed of his next idea – a free encyclopaedia which was open to anyone to access and edit, featuring zero advertising. It succeeded…massively! Today, Wikipedia is the no. 5 website in world and 500 million people use it every month! It's also still run as a non-profit organisation with the grand aim of giving free information to everyone in the world.
5. Riding high on his success at Wikipedia, Jimmy introduced Wiki Search – a new search engine tool which allowed people to edit and move search results and was widely hailed in the media as 'Google's worst nightmare'. However, it bombed and had to be shut down in the economic downturn.
6. Not to be deterred, his latest idea is Wikia – a service which aims to empower people to build the 'library' that sits behind Wikipedia. It already has 95 million monthly visitors and is in the Top 30 websites in the world. Success!
So, despite having massive success over the years, Jimmy has also had plenty of failure too but it hasn't stopped him from trying new things. The sign of a true entrepreneur it seems is the ability to keep trying and persevering even when the chips are down.
Some lessons Jimmy has learned along the way:
Fail faster. Stop projects sooner if they're not working
Don't tie your ego to a particular idea
Real entrepreneurs fail and fail and fail so remember to enjoy yourself along the way
Jimmy on Wikipedia and Entrepreneurship
Following his talk, Jimmy took part in an onstage, sit down interview with conference organiser Michael Harman (Seven Hills) to delve a little deeper into his life.
Jimmy said that a common criticism aimed at Wikipedia is that it's not as accurate as traditional encyclopedias but when people do serious academic research to compare it comes out very well. "The old encylopedias were never that good anyway and quickly out of date" he added.
He also said he's not worried about the future because he's a pathological optimist and always thinks everything is going to be ok. He's also not worried about competition for Wikipedia because "it's a really bad business model and really beloved by the public."
When asked about being an entrepreneur vs. having a job Jimmy said, "A job? That's a pretty extreme idea for me. I'm completely unemployable!"
Harman followed this up with the question "When do you know that you're failing?" His answer was "When you can't make payroll that month and have to let people go."
His top tips to be a world beater? "1. Persevere through every little set back and 2. Fail faster and know when you should give up!"
When asked if he had a mentor, Jimmy said "I have lots of people around me to temper my optimism. But be careful not to surround yourself with negative people."
When asked what he was like as a teenager, he said he was a member of the school computer club in 1981. Since then, all those people have gone on to high level jobs in IT/Internet. The secret he thinks was early exposure and easy access to the latest technology!
Try Sage One for FREE
If you're starting or growing a small business, take a look at our cloud-based Sage One Cashbook, Accounts and Payroll software and sign up for a FREE 30 day trial at http://uk.sageone.com/products/