Sage

One Payroll

Online payroll software that's HMRC compliant, RTI-ready
and refreshingly simple to use. Developed for small businesses in the UK.
Ready to deal with HMRC's Real Time Information (RTI) legislation
Simple to use, even with no payroll experience
Manage payroll for 5, 10 or 15 employees
Calculations are automatic so it's easy to process your pay runs

HMRC-recognised and compliant with payroll legislation

Easy to make corrections
How can Sage One Payroll help you?
Watch our quick video and learn how Sage One Payroll can help your business.
Payroll software that is HMRC compliant, RTI-ready

and really easy to use
If you're looking for more detailed information on what Sage One Payroll can do, check out our feature list.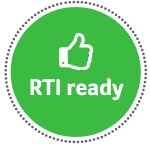 What is Real Time Information (RTI) for payroll?

Download our free guide
From 6th April, all UK employers must submit their tax and national insurance information to HMRC every time they run a payroll and not just at Payroll Year End. If not, they risk a fine of £100 or more. Read how to get RTI Ready in our free guide to 'Helping small businesses with Real Time Information'.