Ready to deal with HMRC's Real Time Information (RTI) legislation
Simple to use, even with no payroll experience
Manage payroll for 5, 10 or 15 employees
Calculations are automatic so it's easy to process your pay runs

HMRC-recognised and compliant with payroll legislation
Effortlessly simple and worry free automatic enrolment…more
How can Sage One Payroll help you?
Watch our quick video and learn how Sage One Payroll can help your business.
Simple online payroll software

for 1-15 employee businesses
Sage One is stress-free payroll software that makes life easier for you and your employees.
– Always up-to-date with the latest HMRC legislation
– Submit Real Time Information (RTI) returns
– Manage Automatic Enrolment of Workplace Pensions
– Reclaim your £2,000 NIC Employment Allowance
Payroll software that is HMRC compliant, RTI-ready

and really easy to use
If you're looking for more detailed information on what Sage One Payroll can do, check out our feature list.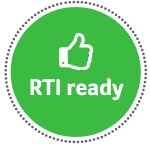 What is Real Time Information (RTI) for payroll?

Download our free guide
Real Time Information legislation requires employers to submit PAYE and National Insurance to HMRC every time they run a payroll and not just at payroll year end. If not, they risk a possible fine or penalty. Sage One Payroll makes this easy with a single button click at the end of the payroll run.
Confused about Workplace Pensions?

Download our free guide
From the 1st of June 2015, businesses with 30 employees or fewer are being phased in for new Government legislation called Automatic Enrolment of Workplace Pensions.
To help you prepare, we've created a handy free 'Sage One Guide to Automatic Enrolment' which you can download below.
Thinking of starting up a business?

Free Start-up eBook
Download our free Start-up eBook worth £12.99